Bathroom shelf with hooks for towels
While I found in this first photo pinterest a shelf for towels, I was fascinated by the idea. Shortly after I saw her again the idea room, this time with instructions!!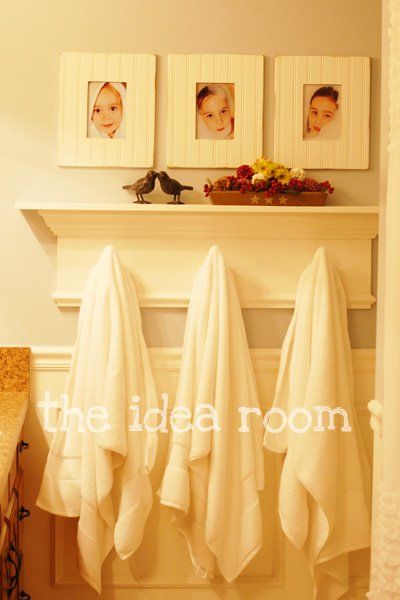 Begin to make!! ... First the materials ...
Materials
3 feet 1 x 12 pine for a back
4 feet 1 x 6 pine for the top
5 feet 3 5/8 inch crown molding
4 feet 1 1/8 decorative molding inches
miter box
brads
wood filler
harrier
Rubber wood
pintura base
painting
Cut off your crown molding. To cut the correct angle you have to put the molding to low at the same angle when going already put in place ( do not put it flat on the box) The base of the crown has to be measured as well as the piece of wood back ( 3pies)and the top is opened at an angle of 45 degrees. Also cuts your side pieces, the base molding will be measured according to the thickness of your timber opening upward angle 45 anew.
Focus your wood 4 feet above that of 3 pies. Nail it in place with care ( the next I'm planning to use a couple of screws to make sure that it is safer).
Flip your shelf and put your crown molding. Again, I am thinking of putting a small young bulls out there because the trim nails tended to separate from the wood up easily.
Takes you decorative frame. Let dry well and start all nails and cover all banks that need with wood filler. Take your time, you do not forget anything.
When dry sandpaper good is good all your shelf so that everything is fine and smooth uniform. When ready cleans well the shelf and give him a hand primer. And then paint and the color you have chosen. Give your hands to create necessary.
Give time to your shelf to dry thoroughly before putting on your wall.
For some reason do not take pictures of this part, but to get the original hose for towels left with large circles on the wall (those who painted the wall not removed before the tube to paint well) Since I have the color used in the bathroom and I'm not thinking about paint soon, I decided to put my shelf a fair height to cover this. Now, also I liked the idea of putting more screws to stick it to the wall and then having to cover and repainting those parts. What better way that put your screws where it is not futile see!! Under hooks!!
Hang your towels and ready!! What do you think?! I am super happy with the outcome. Both, that this weekend I start another to put it on my daughters bathroom. To that, I'm thinking to put four hooks. As soon as I finished it I will put the photo so that you see it : )